HammerMarks
Blacksmithing
Joe Harris, Proprietor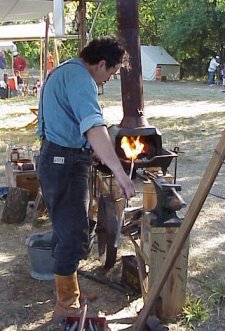 Joe has been providing the Midwest with top quality forge work for over 10 years. While he specializes in ironware and accessories for buckskinners he can custom make anything you need. He has always said "If you have seen it done anywhere, I can do it for you here".

Joe does much of his work in his shop but he spends his weekends traveling to area rendezvous and historical events to practice his trade for all to enjoy. He will do custom work for customers or teach spectators how this old world craft is done. Whether Joe is making money in his shop or making new friends in camp he is always at home swinging his hammer and making the steel ring.

Please take a moment to look around Joe's site. You will find many handy and beautiful items that you can use at home or in camp.
---
---
To order anything from this web site
or to request a price for custom orders please contact Joe at:

HammerMarks Blacksmithing
Joe Harris
6815 Redbud Dr.
Manhattan, KS 66503
Phone: 785-293-4485
E-Mail jcharris@kansas.net
---
Copyright &copy 2000, HammerMarks Blacksmithing, All rights reserved.
This web site was designed and is maintained by W. Lee Tebbutt, Please notify him of any problems or comments.
Our Internet services are provide by The FreeTrapper, Let them host your muzzleloading or buckskinning web site.
---