Kayak Chapter Video Library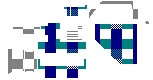 ---
For video rental, Contact: KCKA Accessories and Kayak Chapter Video Librarian
David Cobb / dcfitness1@cox.net
632 E. School St
Rose Hill, KS 67133-9491
316-772-3527
KAYAK CHAPTER VIDEO LIBRARY:
revised: 07/10/2007
---
History:
The Kayak Chapter Video Library was conceived in 1984 by a handful of interested KCKA/Kayak Chapter paddlers in the Manhattan, KS area, including Rex Replogle & T.J. Hittle, American Red Cross kayak instructors from 1979-1995. For purposes of documenting and disseminating instructional paddling and river running information, preserving club river trips, maintaining a library of commercial-made river running videos, and promoting the Paddlesport, the accumulation of 1/2" VHS video tapes began.
The collection is ever changing and contains nearly 80 video tapes featuring hundreds of hours of paddling endeavors, instructional tapes, workshops, and various made for TV films. The collection exists to serve club members only and is not for rent commercially. A nominal donation plus shipping costs (one-way) is requested to replace tapes and to augment the library. A great many of our tapes were donations. Donations of paddling videos are greatly appreciated.
---
POLICY:
Our check out procedure:
1) Contact the Librarian and reserve your video(s) by mail, phone or E-mail. KCKA Members only
2) Handling & shipping: $5.00@ +Donation: $5.00@ = Total $10.00@
3) Please rewind and return to the address above with 21 days after receipt, unless other arrangements have been made.
4) Send U.P.S to the street address as the preferred method.
5) Although we sometimes send out reminders to those that have forgotten to return the video tapes. Remember that this is a volunteer assignment, not a public library.
KCKA / KAYAK CHAPTER VIDEO LIBRARY
TAPE #
TITLE
DESCRIPTION
---
#1
Western WW Package
5-Idaho Classics, Urban Kayak, So Where's the Horses, Liquid
Madness,

#2
Custom WW Package
Rolling with Rocky, Grand Canyon '85, Wyoming Surf Safari,
Week in Colorado,
Chili Bar/Snake Dance WW Rodeo

#3
Middle Fork Mix
R-rated video w~/Playboy-user discretion!! '86 British Duit
Kosi Exp- unedited

#4
Eastern WW - '85
Kayak Chapter Trip to Hiawassee river (TN), Nantahala river,
NOC Rescue Workshop;
Upper Tellico river (has original "Boy Wonder" story)

#5
Okies on the Ocoee
Ocoee river, TN.- features great hole riders

#6
NOC River Rescue
River rescue workshop held for Kayak Chapter members- Les
Bechdel and Gordon Grant

#7
River Journeys
Corsica Waughi river, New Guinea Corsikayak- French paddlers
run high gradient streams in Corsica

#8
ABC Sportsman WW
Grand Canyon, Niagara Gorge, Yampa, Jatate, Susitna, Arun
(all have poor tape quality)

#9
Kayak Chapter Instruction
Fast & Clean, Ohio DNR rescues. Whitewater Primer,
Uncalculated Risk, Margin for Error, Drowning Machine, ACA
TV ads, Hypothermia

#10
WW Injuries Symposium
Kayak Chapter River Safety Symposium on:
Shoulder Dislocation, Hypothermia, First Aid kits,
Cold Water Near Drowning, Back Injury prevention,

#11
Eastern WW '84
Kayak Chapter trip back East; Big Piney river

#12
Longest River
Bio-Bio river, Chile w/SOBEK Expeditions; Edited British
'86 Expedition to the Himalayan mountains.

#13
Watut river
Watut river; Wildwater Champions film

#14
'84 Pool Slalom
1984 KCKA Kayak Chapter Pool Slalom race held at the KSU
Natatorium

#15
TV clip -Yangtze river
5 minute video clip used for TV promo; The Sino-American
raft descent of the Yangtze river.
Part one & Part two.

#16
Iceland Breakthrough
An incredible British expedition to Iceland to the Jaculsa
river.
Paukartambo river John Armstrong's film of Peru's
Paukartambo river.

#17
NOC Rescue clinic
Arkansas Canoe Club river rescue Workshop with Dennis
Kerrigan

#18
Sun Kosi / Duit Kosi
ABC Stykine river. Late 70's British expedition do high
gradient runs In the Himalayan mountains. ABC Sportsman on
British Columbia's Stykine gorge.

#19
Go with the Flow
Gravity Sports video on: Assorted California rivers, Dolores
river, Lodore canyon on the Green river, Main Salmon river,
and the Middle Fork.

#20
Castel Kayak / Waughi
Famous French kayakers do high gradient runs.
SOBEK expeditions of the Waughi river in New Guinea,
Arkansas Bloopers-wild & funny

#21
Rescue Breathing
Red Cross teaching tape on artificial respiration.

#22
Alsek Expedition
Paul Vandermolen's incredible expedition with SOBEK on the
Alsek river in Alaska.

#23
Whitewater Gold
Decked canoes, kayaks, and rafts do the, Watut river in New
Guinea. Also has Castel Kayak on the tape.

#24
Knoxville Video
Lots of footage at the Knoxville Tennessee Canoe and Kayak
festival; features
Nolan Whitesell, Kent Ford, Slim Ray, many exhibits and
Slalom races on the Ocoee.

#25
Basics / Squirting
From Perception comes a good educational video on rolling,
the forward strokes,
and squirt boating. Excellent!!

#26
Guide to Canoeing
From L.L. Bean comes a good instructional video on Canoeing
basics.
Features National canoe coach, Ken Stone

#27
Getting Down Under
A radical squirt boating video-Fantastic!!

#28
Path of the Paddle
The late Bill Mason's film follow up to his book. Excellent
solo and tandem canoe instruction.

#29
KAYAK CLASS TAPE
Contains Rolling with Rocky and the three American Red
Cross paddling films used in the
kayak class at KSU.

#30
ACA Mixer
From the ACA Central Division comes footage on the Cossatot,
Illinois Bayou, Slalom racing, and
lots more. Thank you Max!

#31
Bloopers Mix
Arkansas Bloopers, Pine Creek canyon descent, and the
awesome upper box canyon-Rio Grande.

#32
Whitewater Boating
Excellent river safety film produced by the Colorado D.O.R.;
Hawkins river, Nahanni river

#33
Outdoor Idaho
Documentary on Idaho whitewater; footage of Middle Fork KCA
trip.

#34
St. Francis river
PBS documentary on Missouri's St. Francis river and video
footage of
Rocky Ford, Manhattan, KS.

#35
Paukartambo I & II
John Armstrong's films on the Paukartambo river in Peru-
excellent

#36
Middle Fork
Video footage of the Middle Fork Salmon river Idaho;
Chocolate thunder-footage of KCA Labor trip on Arkansas
river; Rocky Ford, Manhattan


#37
River / Grand Canyon
Combined footage of several documentaries on the Grand
Canyon, Colorado river

#38
Nolan
Assorted footage of Nolan Whitesell-hair open boater-awesome
stuff!!

#39
Whitewater Dancer
Assorted instructional kayaking videos.

#40
Costa Rica Whitewater
Rios Tropicales video on whitewater vacation in Costa Rica-
Central America

#41
American Rivers
Video on the American Rivers organization, a non-profit
group dedicated to saving America's great river systems.

#42
Grand Canyon With RB Hayes
This is a collection of footage from KCA member RB Hayes'
1989 Grand Canyon trip.
Features some great canoeing and a few swims.

#43
Red Ape / Selway river
SOBEK expedition on the Alas river(River of the Red Ape in
Indonesia (Sumatra)
Selway river and Lochsa rivers In Idaho.

#44
'89 World Cup
Championship kayak racing

#45
Expedition Earth
Excellent Grand Canyon video with some of the World's
greatest paddlers and song writer Glen Frey.

#46
Canoe / Kayak basics
Excellent British kayak instructional tape

#47
Yakkity -Yak
Humor tape on kayaking...funny stuff

#48
'89 WW Worlds
K-l World Championship races

#49
Western Mix
Middle Fork, Grand Experience, Great White Hunters, Yakkity
Yak, S. Fork Salmon,
N. Fork Payette, Rivers of the West, Dolores Canyon Dreams.

#50
C-l Challenge
Great instructional tape by expert paddler , Kent Ford on C-
l techniques and rolls.

#5l
Gorilla
Incredible Class V-VI runs on the Narrows of the Green
river, North Carolina.

#52
River Rescue
The video version of the book by Les Bechdel produced by
Anne Ford.

#53
Yampa '92
Kansas expedition on the Yampa river through Dinosaur
National Monument

#54
The Open Canoe Roll
Bob Foote, expert open. boater,-covers complete outfitting,
paddle techniques, and his open boat roll.

#55
Solo Playboating
Kent Ford demos several makes of canoes during this
excellent play techniques
instructional video. Hot Stuff!!

#56
SE/SW Rivers
A great whitewater video previewing several popular
Eastern & Western WW rivers.

#57
Canon / Wilderness
Two spectacular videos; Canon-The Grand is a very complete
description of a summer trip
through the Grand Canyon; Wilderness rivers describes the:
Merced river (CA),
Toulomme(CA), M.F. & S.F. American(CA), Cal-Salmon(CA),
Rogue river(OR),
Frazier river(B.C.-Can), Dolores (CO), Chatooga river(GA),
Gauley(WV), New River(WV), and
Penobscot rivers---Wheww!!!!!!!!

#58
Bloopers 2
Another great collection!! Gayle Wilson's WW Bloopers 2,
Cal. Salmon, Klamath, Illinois,
Rogue; Chris Walker's hilarious cataraft video- The Great
White Hunters;
Riders of The Wild Whitewaters; In search of the
Unrunnable; Riverscapes.

#59
'92 Kayak Chapter Trip
This is a short collection of 1992 river trips taken by
various club members,
includes: Pine creek canyon, Taos Box, and Rapids 1-6.

#60
Green Summer mix
The second, possibly best, of the Class V Narrows of the
Green(NC) CHACHALACA- a
impressive video featuring the rivers of Costa Pica;
Zambesi- a very complete review of Africa's awesome Zambesi
river.

#61
Animas / Eastern Whitewater
A great collection featuring Chris Walker's Animas river
run with catarafts.
Also a collection of classic Class IV-V Eastern runs,
Including: The Upper Yough, Gauley river,
Russell Fork, Big Sandy; Last, but not least, THE BANKS OF
THE ARKANSAS - simply the
most complete and comprehensive video on Colorado's mighty
Arkansas River.

#62
Token of My Extreme
Jeff Snyder/s outrageous Class V-VI Eastern whitewater runs
in squirt boats and rubber Duckies;
Blazing Paddles - a collection of great runs, flips, etc. on
some incredible rivers in the U.S. and on
various International rivers.

#63
Grace Under Pressure
Another great skills tape with humor by the folks at
Nantahala Outdoor Center.
Joe Holt, the producer was one of our club paddlers when he
lived in Kansas City.

#64
Kayaker's Edge
A river running and play instructional tape by several
excellent paddlers in the Four Corners, Colorado area.
Producer Kent Ford has some great river running and play
techniques outlined.

#65
On The Banks of the Arkansas
Simply the most comprehensive video on Colorado's mighty
Arkansas river.

#66
Whitewater Mixer 2
Nolichucky river, Brown's Canyon, Lochsa river, Selway
river, Wild and Scenic Selway - 1995

#67
The Kansas river - A Threatened Resource
A 7.5 minute video that illuminates the issues regarding
the current river dredging issues. Well done!!
#68
Arkansas River Dredging
Short video on the impact of dredging on the Arkansas River in Arkansas.
#69
Grand Canyon
Winter 1992 KCA Expedition
#70
1994 KCA Expeditions April 1994 – St. Francis River May 1994 – Cache La Poudre River June 1994 – Salmon River (Rainier, Lantz, Salmon Falls, Bailey Rapids, Five Mile Rapids, Big Mallard Rapids, Elkhorn, Ludwig Rapids, Chittam Rapids, Vinegar Rapids, Lake Creek Rapids)
#71
Kayak Chapter '94 – '95 '94 Whitewater, '94 New River, '94 Gauley River, '95 Honduras
#72
Area Verde Expeditions
Guatemala Whitewater - Rio Cahabon, Rio Esclavos, Rio Sauce, Rio Lanquin
#73
KAVU DAY
w/ Dan Gavere - hot kayaking video. Mostly European whitewater

#74
Rivers of the Maya
First Descent of Santa Domingo River in Southern Mexico
#75
Mohawk's Whitewater Video
Demonstration video on Mohawk Playboats, outfitting, repair, accessories. Flatwater boat review, canoes for kids, etc.

#76
T.J. & Jeremy Hittle - kayaking adventures on the Cache La Poudre, Main Salmon, Numbers 1-6

#77
Nova
Grand Canyon with the Kansas Geologic Survey

#78
Sunflower Journeys
Kansas Geology, Canoe the Blue River, Manhattan with (late) Lee Railsback, Konza Prairie

END

---